To open up my brand new Garmin Forerunner 305!!!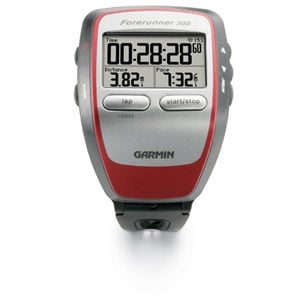 Yes, apparently Hannukah Harry (heretofore known as "Mom") reads my blog and gifted me on Christmas morning with the much-coveted GPS running watch (I know, Jews opening gifts on Christmas morning? Crazy talk. )
In case you're not aware of what this new-fangled thing I'm talking about actually is, it's a running GPS watch.  You know the car GPS' that use satellites to tell you exactly where you are? This is the same thing, only smaller and with a strap so you can wear it like a watch. Sounds awesome? It really freakin' is.
But in spite of my excitement over this present, it took six weeks and an upcoming six mile run for me to actually bust it out.  Part of this was because I am scared of new electronic devices. Seriously.
Case in point: My cell phone is now 3.5 years old and counting.  Both the front screen and the main screen are broken and there are teeth marks on it from when my devil of a dog got ahold of it.  Yet, I refuse to get a new one because the thought of learning how to use a new one petrifies me (SO ridiculous, right?!? It's a serious bone of contention for Pete, drives him nuts!)
Anyways, what was my point? Oh right, the Garmin.  The other reason I hadn't had any motivation to bust it out was that the weather's been such crap here in the Northeast that I haven't been doing much outside running.
Well, I finally sat down last Saturday night (What? You don't stay at home on Saturday nights to learn new electronics gadgets? Well, bully for you then!) and opened up the package.
And I guess the joke was on me because literally, all I had to do was charge it up and press the power button and BOO-YAH! Garmin. GO.
Let me tell you, folks, this thing is awesome!! I've used it three times since last Sunday and I love love LOVE knowing exactly how far I've run, what my pace per mile is, what my heart rate is and all the other fun stuff it tells me.  Is it sad that things like that make me jump for joy? A little bit, yes.
Apparently, I can also set up an account on my computer and connect Garmin to the computer to log in all my work-outs and such but let's not get carried away here, just opening the thing up and actually using it was a big deal for me. Baby steps, people, baby steps.
Maybe in 2012 I'll actually hook it up to my computer but I've been saying that about my car GPS for about, oh, three years now so don't hold your breath (Seriously, don't hold your breath.  For like, anything.  Breathing=good.  Not breathing=bad news bears.)
Anyways, three cheers for this Garmin and for me tackling my fear of new electronic gadgets.  Now if I could just get myself to go to the Verizon store and get a new cell phone, all would be right in my world.